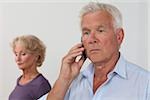 Whereas traditionally the older the married couple, the less likely the chance of a divorce, this long-standing trend is rapidly changing. As notable divorce financial analyst, Eva Sachs reports, in 2009, people ages 50 and older were twice as likely to divorce as their counterparts in 1990. In her research, it was concluded that for many baby boomers, the children are out of the house and it's time for them to face reality. Questions of who get to keep what are even more stressful at this age when couples have to consider the financial impact that this change will have on the rest of their lives through retirement.
In her blog article, Divorce After 50, The Benefits of Mediation, she points out that divorce mediation is a highly useful tool for couples in this age range because it ensures the preservation of the greatest amount of their financial resources, and at a time when these resources are of paramount importance to them.
She lists several reasons for engaging a divorce mediator to help these couples work out the terms of their separation or divorce agreement. Some reasons that are mentioned include: 1) couples will be given the opportunity to work on their future, not to fight about their past, 2) it is their process and they can control cost and timelines, and 3) it gives them the chance to leave the process with an ongoing relationship to maintain a healthy family.
The full article can be found at the folllowing link:
http://divorcetalk.wordpress.com/2012/04/23/divorce-after-50-the-benefits-of-mediation/