The Healthy Parenting Plan : No more teachers, no more books…
No more teachers, no more books…
No more teachers, no more books…
The transition out of school and into summer can be a mixed blessing for parents. The immediate sense of relief from the daily grind is often compromised by looming gaps in child care and structured activity.
Children typically approach transitions with ambivalence as well. Change is at once exciting and disruptive. When school ends, children leave behind the security of routine, the guidance of teachers, and the companionability of classmates. No matter what adventure lies ahead, it is preceded by loss.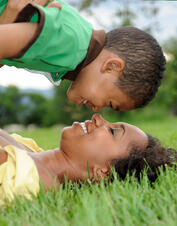 When a family is also in transition, (for ex., you have shared custody arrangements as part of your parenting plan, these typical end- of- school anxieties may feel exaggerated. But mindful parenting always includes strategies for easing transitions (like the tried and true "ten minute warning" before ending an activity or departing a friend's house); and like sunscreen, should be liberally and frequently applied throughout the summer.
Consider these 6 suggestions for an emotionally safe summer.
1. Display a sunny attitude. Remember that summertime always brings change. It's seasonal, not a consequence of your marital status. Chances are good that the accommodations you always make will largely work even if you are parenting separately. You don't have to start over. Recycle the useful parts; just modify the mechanics. Always default to the simplest strategy.
2. Share your attitude. When you approach the summer transition by emphasizing everything that's familiar and unchanging, your children will relax, too. Talk and talk and talk some more about how their lives will remain essentially the same. Be clear and positive about how you as parents will make the necessary adjustments.
3. Don't "surprise" your children. Include your children in their summer planning. Being age appropriate, engage their ideas and strategies. Insofar as possible, let them tell you where they want to be and who they'd like to be with. If their family structure is changing, they will seek stability in the rest of their world. They need to know what's happening to them—keeping your kids in the loop provides them a critical sense of control over their lives.
4. Honor the status quo. If your children have always gone away to camp or elsewhere, let them go. If it's financially feasible and they want to return, the familiar is good; a testament that life goes on. If they have never gone away, don't send them now. Their capacity to adjust is diminished; they are already coping with change. And the inclination to "protect", provide a "change of scene" or "distract" is misguided because children worry about what is happening to parents at home. Your kids' imaginations are far scarier than reality; they typically derive comfort from firsthand knowledge. (As with any generalization, gauge your own children's emotions and dispositions critically.)
5. Keep trips away from home short. Traveling with either parent, grandparents, friends of the family, etc. offers a wonderful adventure and satisfies that instinctive need to get away. Yet again, children will begin to miss and worry about the parent or parents not present. Assorted "mini- vacations" taken more frequently offer more to look forward to and less to fret about.
6. Talk and talk and talk some more. Take walks and talk. Play games and laugh. Take rides and sing. Catch lightning bugs and talk. Light or insightful, communication is the silver bullet. As with all transitions, help your children anticipate what is coming. Imagine with them where they will go, who they will see, what they will do. Imagine how they are feeling. Ask questions. Just because they are not talking doesn't mean that they're not thinking and feeling a lot of stuff. Listen. And have fun. School's out.
The Healthy Parenting Plan is written courtesy of Sandi Sherr, M.Ed, parenting mediator for Main Line Family Law Center. For over 25 years, Sandi has been dedicated to building strong, healthy families - no matter their design. For more information or advice on creating a healthy parenting plan with your ex or soon-to-be-ex, contact Sandi at ssherr@mlfamilylawcenter.com
---
Start your parenting plan now

---