Main Line Family Law Center hosts, sponsors, and promotes community events related to making divorce a healthier process.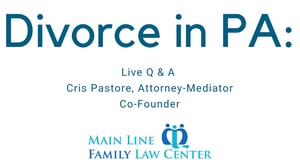 Divorce in PA: Live Q & A
When it comes to divorce, the internet is loaded with conflicting information. Well-meaning family & friends overwhelm you with what you should do. Rights, entitlements, and obligations....so confusing! Time to take control of your situation. Get educated and empowered.
Preparing for Divorce Podcast
Preparing for Divorce podcast supports anyone who is approaching separation and divorce, and wants to make healthy smart choices. Financial, legal, emotional and parenting topics featured monthly. Hosted by Pamela Elaine Nichols.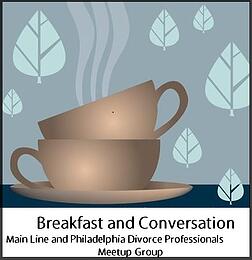 Make Divorce Healthier - Meetup Group for Divorce Professionals

Firinji 54 E. Lancaster Ave. Ardmore
A networking event for divorce professionals that meets every other month. Engaging roundtable discussion and continental breakfast. Bring your perspective, your experiences, and your business cards and contribute to our always-stimulating conversation!
Join our Meetup Group to receive notifications about upcoming meetings.
Second Saturday Divorce Workshops
This program offers non-biased financial, emotional and legal advice from qualified local professionals, providing people with the knowledge, support, resources and trust that they need to survive the divorce process and move forward with confidence toward a new life. Second Saturday Divorce Workshop is held at Montgomery County Community College in Blue Bell, PA.
Divorce Resource Event
The Women's Resource Center in Wayne offers this presentation several times each year. Learn about the financial, emotional and legal considerations of divorce from the experts. As a sponsor of the event, Main Line Family Law Center staff is on hand to answer questions. Check out their calendar for upcoming events.
Make Divorce Healthier Symposium
In collaboration with other local divorce leaders, Main Line Family Law Center launched the Make Divorce Healthier Symposium, the Greater Philadelphia area's first ever symposium on kinder, mindful and affordable divorce. The symposium brings together over 130 divorce professionals to remove the shame, blame, and fear associated with divorce. To find out how you can get involved with this vibrant community of change-makers as an attendee, speaker, or sponsor, visit the symposium's website.
__________________________________________________________________________
Partner and Community Events
Do you have an event that should be listed here?
Contact Sharon Pastore at spastore@mlfamilylawcenter.com
__________________________________________________________________________
Divorce Support Groups
Find Divorce Support Groups in Philadelphia and Main Line area