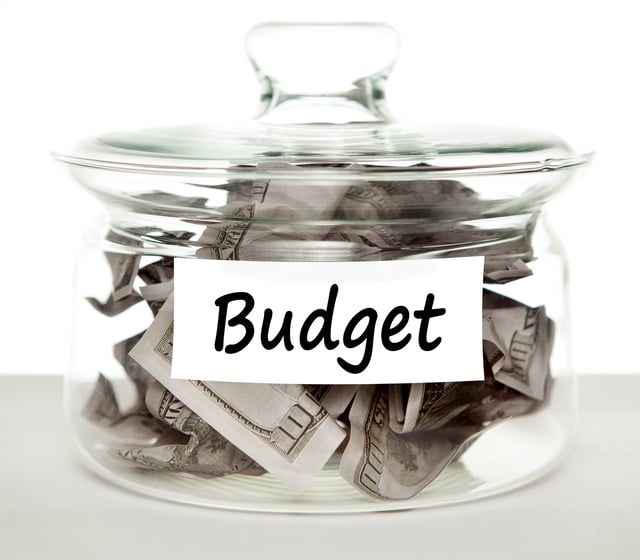 During marriage, it's normal to split up responsibilities and duties of the household. Usually, one spouse handles the paying of bills, credit cards and bank accounts. I know in my own household growing up, my mother handled the finances because she was more financially conscious and stuck to a tight budget.
According to a study conducted by SunTrust bank in 2015, it was found that 35 percent of those experiencing relationship stress said money was the cause of their arguments. That number shot up to 44 percent for those in the 44-54 age bracket. These statistics show just how often money problems in marriages occur and how they can, many times, lead to divorce.

But what happens to financial security when spouses decide to separate and eventually file for divorce? The unknown can be a pretty scary situation.
If you are trying to get into financial shape as you approach divorce, the best thing you can do is to take the time to learn, and don't go it alone. "Getting educated leads to empowerment, because anxiety lies in the unknown," says Julie Terrana, a financial advisor at Merrill Lynch and a certified divorce financial analyst.

Here are 4 best practices for getting in financial shape as you approach divorce:
Build your credit to go the distance

When preparing to divide up assets and debts, a major consideration should be if your credit is strong enough. For some spouses who have relied more on their partners for financial help, this can be a difficult but not impossible step to become self sufficient.

"Some credit card companies offer free credit ratings, so check it out first," says Terrana. "It's important to face the monster head-on and look at your credit score and learn how to build up credit. Some examples of building up credit are opening a credit card account, put some money on it that you can pay off right away. What can kill your credit score are stores offering cards. Every time you open a new store card it hurts your credit score," Terrana said.
TRANSPARENCY IS KEY
Another often overlooked concern about credit is transparency with your spouse. It's always best to be open and honest with your spouse even when preparing for divorce so you don't run into problems of hidden costs or bills. One integral step is to see what is currently held jointly and if anything comes out of that joint account, ensure it is divided as fairly as possible.
When it comes to dividing up marital property, especially debt, "a lot of spouses may not know that their names are on certain bills but sometimes during divorce one of the spouses that should be paying, out of spite or limited resources neglect to pay a bill and if your name's on that bill, it hurts your credit score and you're still held accountable," Terrana said.
Rework your budget to fit your new lifestyle
Setting a budget can greatly benefit anyone, especially those dealing with navigating a new path that is divorce. It's a way to set priorities and manage money a lot more easily so that when you are on your own you can be financially independent. "It's amazing once you write down a concrete number how much easier it is to reach that goal because you're within limits and it's there to help you get back on your own two feet and start your own financial path to your financial future," Terrana said.
"You're going to have to figure out what you personal budget will be," offers Terrana. Take three months worth of expenses such as food, clothing, utilities, rent or a mortgage and figure out how much that is over three months to get a good average of what your expenses are. Factor in how much you spend on your children if you have any or if you have joint custody.
I know during the divorce process saving isn't always a popular word, it's typically after the divorce process," Terrana said. "That's where we can start fresh and say 'okay this is how much you spend per month,' let's have a goal of spending this amount and let's see if you could save this certain amount."
ESTABLISH A TEAM OF SUPPORT
"Get help as you go through the journey to finish the goal of divorce as seamlessly and short as possible."
A team of divorce professionals can also be key to getting through a tough life transition. In certain situations and divorce preparations, Terrana says there should be a divorce mediator, lawyer, divorce coach, CPA, certified divorce financial analyst and a therapist who could be on your team. "A divorce coach can really help you find all these people and manage them if it feels overwhelming." It all depends on your unique situation if you need many players on your team or just a few solid team members.
"We can be the light for you going through the dark forest and guide you to eliminate as many dangers as possible," Terrana said.
While it's best practice to meet with a financial advisor in the beginning stages of divorce, a financial advisor can help clients in all stages of the divorce process and finds positive changes in all stages.
A FINAL WORD OF ADVICE
Terrana encourages those in any stage of divorce to become more educated about their finances in order to gain financial independence. But the most important tip Terrana shared was to put yourself and your mental health first.
"Really trust yourself and trust your instincts and be gentle with yourself. It's a very difficult process what you're going through and if there are days where you feel setbacks emotionally, it's okay, you're allowed to have that. We're always eager to help and it only benefits you so that you are fully aware of this process."


"If you are in the middle of it and don't know when it's going to end that tunnel could seem like forever but just know that out of your entire life even if you were married for 30 years, this little divorce; even it lasts on the longer end of 3-4 years, that's still such a small amount of time compared to what you had before you were married, and the amount of years you have after you were married. It's very important to keep your eyes on the horizon.


Why let this small little divorce out of your entire life dictate how those happy events for the rest of your family are going to go for the rest of your life," Terrana said.
Topics: Get into Financial Shape