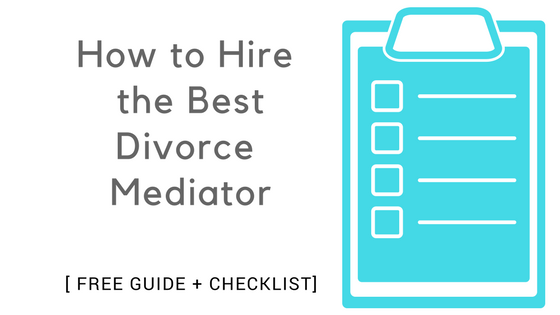 Hiring a divorce mediator is likely something that neither you nor you spouse have ever had to do. Yet this decision may be one of the largest (and most stressful) you will ever make as a couple. That's why it's important to take the time to consider the factors and qualities of a divorce mediator that are most important to each of you.
After all, you aren't just "hiring a mediator." You are hiring a professional to help you negotiate outcomes that affect your financial future and the potential impacts on your children.
Before you get into the room to mediate, however, the first (and most critical) decision to make together will be around who will you hire to mediate your divorce. If you are trying to do this in the most fair way possible, it's a good idea to each do you own research and find your own mediator, and then attend two consultations before making a final decision.
In your research, you'll want to consider a variety of factors including:

1) Approach and Comprehensiveness of the Mediation Process
2) Results
3) Cost of Services
4) Convenience/Length of Time
5) Ability to Handle Special Needs and Situations
PART I: CHECKLIST FOR HIRING A DIVORCE MEDIATOR
Here is a comprehensive checklist for hiring a divorce mediator. Use this list to select what's most important to you while being able to stay within your budget.
APPROACH AND PROCESS
Uses a variety of

mediation

styles to achieve a fair outcome for both sides.

Values your approach to fairness and sets ground rules.

Offers a proven step-by-step structured process to follow so we know what we are doing all along the way.

Ability to collaborate with my spouse is made as easy as possible.

You both can retain complete control. The agreements we have made will be fully honored.

Strong focus on compassionate communication and education.

Can help you both with all the terms we need to work out (including division of marital property, custody, child support & alimony)

The mediator practices exclusively divorce mediation and

doesn't

go to court.

Can help you both think through decisions with your children's best interests in mind.

Can educate you both on my general legal rights,

entitlements

and obligations so I can advocate for myself. (if you don't have a separate attorney retained. Attorney-mediators are qualified to do this.

Offers a customized plan of action with

initial

consultation.

Keeps young children directly out of the process while keeping their best interests at the forefront.

Can still consult an attorney separate from spouse prior to starting our

process or

at the end.

High degree of confidentiality throughout

process

.

Legally-binding process and court-ready agreements available.
CONVENIENCE
Length of

process

is within our timeframe.

Offers an all-in-one service for legal, financial, emotional and parenting resources, including agreements and filing for divorce.

Access to a network of partners and professionals for individual support, if needed.

Offers a streamlined divorce filing process.

I can get an immediate parenting and custody plan in place quickly.

Easy to schedule appointments at our convenience.
COST
Offers free or low-cost consultation, flat fee and pay as you go options, as well as financing options.

I won't need to retain a separate attorney and incur additional costs, but can consult an attorney at some point before I sign an agreement.

I will know the costs prior to starting mediation.

Fees are within our budget.
RESULTS
High level of experience and success working with families and situations just like mine.

High number of clients start

and

finish in mediation.
SPECIFIC NEEDS AND CIRCUMSTANNCES
Can handle financial complexities of investment-based assets, business ownership, and/or tax issues and pitfalls that may result from the divorce settlement.

Help with college planning needs for our children or myself.

Helps me create a household budget.

Coaches us for parenting in two separate households available.
PART II: THE 4 MOST IMPORTANT QUESTIONS TO ASK YOUR DIVORCE MEDIATOR
When you attend a consultation for divorce mediation, you shouldn't go in cold. This is one meeting in which you should take time to prepare. The key is to clearly articulate your needs so they are met at a fair price. plus 4 questions you should be prepared to ask your divorce mediator.
How many cases actually finish in mediation? Maybe the mediator takes any case that comes through the door without discerning appropriateness for mediation. You want assurance that all the terms you need to work out can be worked out in this mediation service, and to understand what supports are in place to ensure success.


Has this mediator had cases like yours? The mediator may have a high-resolution rate, but have they worked with, say, a stay-at-home mom who hasn't worked in years? Or a husband who owns several businesses and managed all the investments?


Do people feel they got a fair settlement? Ideally, you'll want to evaluate a combination of professional reviews and client testimonials and successful resolution rate.

What happens if we reach an impasse? While the mediator should assure you and evaluate your chances of success in mediation, nothing can be 100% guaranteed. You want to know how the mediator handles situations if you and your spouse simply can't come to agreement

, even after all the best strategies and proposals aren't satisfactory.
THE FINAL SAY
Ultimately, you want to find a mediation service that can offer an ideal forum for negotiations that lead to a fair settlement agreement so that you retain control of the outcome, all of which will set a solid foundation for your future.
About the Author
Sharon Pastore, Main Line Family Law Center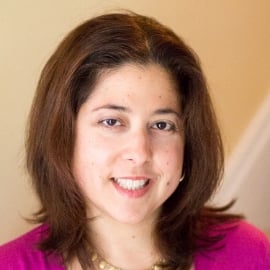 Sharon Pastore is Co-Founder of Main Line Family Law Center, which was established in 2012. She is on a mission to generate awareness, understanding and trust around mediation as a healthier option for separation and divorce well before a client's first consultation. She draws upon over 17 years in nonprofit, education and marketing to enable more spouses to "get to the table" and mediate successfully.
Topics: Healthy Legal Options