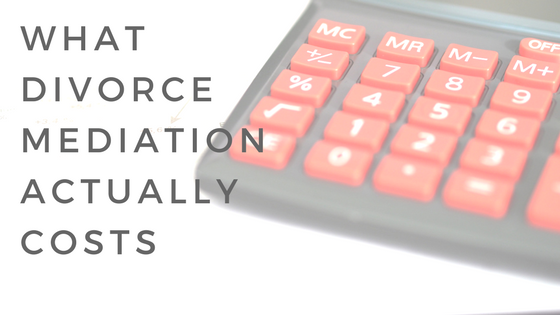 Maybe you are planning a divorce and have done some research on costs. Then you might already know that hiring lawyers to represent of you separately can cost $10,000 each, depending on your situation and the firm you choose. That's just the retainer - before they do any work for you.
So you turned to the less expensive, more amicable option of mediation to save on legal fees as a smarter option. But chances are, you still have no clue as to what divorce mediation actually costs...
So what does mediation actually cost?

A full divorce mediation process can end up in the wide range of $3,500-$10,000. It depends on location, type of mediator and level of expertise, as well as the level and type of services they offer. Usually fees are determined by the number of terms to resolve and number of sessions needed to work them out, as well as preparation time in between. Sometimes an initial set-up fee is also required. Broken down, expect a range of $100-300 per hour.
There are 4 typical ways your divorce mediator will charge for services. They are flat fee, retainer, billable hour, and pay-as-you-go.
1) Flat Fee

A flat fee means it's all-included

.

This is often the ideal way to go for most mediation cases. All work and service provided, and generally, all time spent in managing your matter from beginning to end are included with no hourly billing or billing statements. This option relieves you from worrying about reaching an agreement within a specific time frame because you are on the mediator's clock. It also encourages you to ask more questions and seek knowledge and clarification while also removing the uncertainty over cost associated with the hourly billing model. You'll get a better deal with

flat

fee if you have a lot to work out, from start to finish.
2) Billable Hour

Some mediators charge by the hour, as so time is money.

That means your meter is running for every question, phone call, email, or meeting and the ultimate cost of your divorce is therefore uncertain. The longer it takes to agree, and the more hand-holding you need, the more it will cost you. You may feel the pressure to resolve things more quickly, creating more anxiety and uncertainty and also making hasty decisions that were not well thought out or informed because you were more focused on the fee cost and total time spent on your case.
3) Pay-As-You-Go

Here, you pay for each service as you go along.

So, for example, you pay one fee for the initial consultation, then for each mediation session, then you pay for the memorandum of understanding, divorce agreement or filing service. It's basically a blend of both flat fee and billable hour. This can be a great option if you need to take things one step at a time, for whatever reason, and say - just need a consultation, or only one or a few issues to mediate.
4) Retainer Fee

A retainer is a set amount of money up front required before a mediator will start work on your case.

Often used in conjunction with the billable hour, your mediator will draw from the retainer, then require additional payment once a deliverable or milestone is achieved, say after the memorandum of understanding is provided.
Creative Financing Options and How to Make Mediation Work for Your Budget
Now that you know the importance of choosing the best mediation service you can afford how can you make sure you can afford to pay for these services?
Creative Ways to Pay Your Fees for Divorce Mediation
Before you decide you can't afford a professional mediation service, you may be surprised to discover these creative options can make fees more feasible:
Ask about an installment plan. See if your mediator will let you make monthly payments over an extended period of time. Often you will only need a deposit to get started.


Use a credit card.

Some mediators are sole practitioners and only accept payment by check, so ask about this option. A good option might be a promotional 0% interest card over 12-18 months, allowing you time to pay the fee interest-free.


Finance through Paypal Credit.

This is a surprisingly instant way to get 6 month, no interest, no payments to get your divorce moving. A good mediation service will offer this option.


Split the bill.

This is a great way to cut your expenses in half. Propose to your spouse to go in on the cost of mediation with you. Your mediator can help with this.


Ask your family or friends for a loan.

Pride may be swallowed, but it's a common way for younger couples to afford the divorce.


Working the fee into your settlement.

Often, one spouse pays the entire fee up

front and is reimbursed once money is freed up in the settlement Typically, if there is a home to sell, the sale proceeds can be used to pay for the fees, or if there are other cash assets in the estate, you and your spouse can agree to use the marital assets to pay the fees. Ask your mediator about this one.
If you decide to cost cut now, or if you make buying decisions based solely on cost instead on what your family needs, you risk not being able to achieve a fully fair, adequate and comprehensive agreement, which could result in issues and disputes that may arise after the divorce because they were not adequately address in mediation.
This will cost you additional time and money in having to either revisit issues or address them for the first time after the divorce, or having to enforce an agreement contract which may or may not even be legally enforceable, based on how it was prepared and by whom.
Often times private attorneys will have to be retained to represent your interests, further delaying the closure your family needs to move on after the divorce.
Second, knowing what is beyond your scope of expertise and what's easier to outsource to do is a cost-effective solution. You know when you're in over your head on a project, and it's faster and more efficient to just pay someone to finish it for you.

Remember, there are many good divorce mediators out there, but there are also many that only do this as a side hustle.
To compare, you can't just look at price alone and then simply divide by the total number of hours you will be in mediation. This is a short-sighted evaluation. There is so much more in value that a mediator can offer, beyond just their time in a room with you and your spouse.
One More Money-Saving Tip: Don't Sweat the Small Stuff.


If the value of the item is less than the cost of mediation, you should try to sit at the table together and work it out yourselves. This includes items such as a car, equipment, or jewelry.
Hopefully, you are a little more enlightened about costs of mediation and can now budget accordingly as you plan for your divorce.
This is an excerpt from The Smart and Savvy Person's Guide to Hiring a Divorce Mediator.
About the Author
Sharon Pastore, Main Line Family Law Center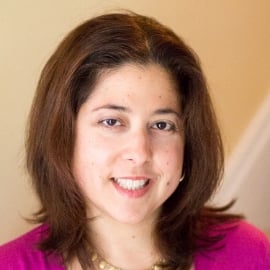 Sharon Pastore is Co-Founder of Main Line Family Law Center, which was established in 2012. She is on a mission to generate awareness, understanding and trust around mediation as a healthier option for separation and divorce well before a client's first consultation. She draws upon over 17 years in nonprofit, education and marketing to enable more spouses to "get to the table" and mediate successfully.
Topics: Healthy Legal Options