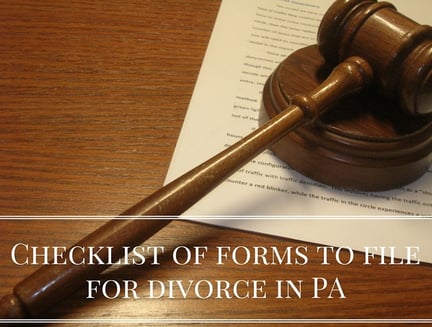 Spouses with no marital property to divide, alimony or immediate custody issues to resolve, can file what is called a simple divorce. The following information and series of forms to file applies to counties in PA, including Montgomery County. Filing for divorce in Montgomery County tends to be simpler than filing elsewhere, and one does not need to be a county resident in order to file for divorce in this county.
Filing for divorce in PA as a do-it-yourself process (called 'pro se') can be overwhelming, riddled with complex and intricate details as well as a strict timeline to which you must adhere. It is also required that either spouse be a Pennsylvania resident for atleast six months prior to filing for divorce.
There are at least 15 forms to file with the Office of the Prothonotary at 3 distinct steps in a period of 3-4 months. You have to really do your research to ensure your paperwork is not kicked back at least once or twice, which is extremely aggravating. Especially if you are trying to have your ducks in a row before the end of the tax year, a quick, do-it-yourself divorce can end up taking way longer.
Don't expect to just call a PA courthouse in the county where you are looking to file for customer service, either. The clerks are not allowed to offer what could be construed as "legal advice."
So, if you don't want to hire a lawyer, you might look at an online service - which is fraught with problems because these services don't know the nuances (and temperament) of a local county courthouse, and the chances of your paperwork not being accepted the first time is highly likely.
The best situation to guarantee that your forms will be accepted the first time, is to find a family law firm in PA that can help you file by yourselves. It's worth the little extra cost over a generic online divorce filing service.
The first step to filing a simple DIY divorce to familiarize yourself with all of the forms that you will need to complete at their various stages.
In PA, the filing process for counties such as Montgomery is broken down into 3 steps, plus a 90-day mandatory wait period. These are standard forms for all counties in PA regarding a mutual consent divorce on no-fault grounds. For a couple to eligably file for a Mutual Consent divorce, at least one spouse must be a resident of the state of Pennsylvania for a minimum of six months prior to filing for the divorce, the couple must have either no dependent children or be in mutual agreement with regards to custody and child support, and each party must agree to the terms outlined in the optional Marital Settlement Agreement. The approproate parties in a Mutual-Consent Divorce must file the following paperwork in accordance with the timeline as outlined below.



Step 1: Filing the Divorce Complaint
The Divorce Complaint is a legal document which, upon being filed with a court, begins a legal proceeding. In this case, it will initiate the commencement of your divorce proceeding.
Here is a list of the 6 forms you need for Step 1 in a PA divorce:
1) Notice to Defend Form
This is a standard form any time a document is filed in court in PA.
2) Counseling Notice Form
This form is a standard form that acknowledges that the plaintiff is aware of the legal counseling options for this divorce filing.
3) Complaint in Divorce Form
This form is the actual request to get your divorce on record with the court.
4) Verification Form
This form confirms that your information is correct and that you are seeking a divorce.
5) Family Court Cover Sheet
6) Copy of Marriage Certificate
Step 2: Filing the Acceptance of Service
Here is the only form you need for Step 2 in a PA divorce:
1) Form of Acceptance (or Acceptance of Service Form)
This form indicates that the defendant acknowledges that they have been served the step one forms and have been made aware that the divorce complaint has been filed
Step 3: Final Forms
After the 90-day wait period is over, you may file the final forms and apply for a divorce decree which states that you are officially divorced.
Here is a list of the 8 forms you need for Step 3 in a PA divorce:
1) Plaintiff's Affidavit of Consent
This form verifies that everything filed is true and the plaintiff consents to the divorce.
2) Plaintiff's Waiver of Notice of Intent
This form indicates a waiver of formal notice.
3) Praecipe to Transmit Record
This form is a request for the divorce to be entered into record.
4) Pennsylvania Vital Records Form
This form requests important personal information.
5) Verification of Defendant's Signature
This form verifies that the defendant's signature appears on the correct forms.
6) Divorce Decree
7) Defendant's Affidavit of Consent
This form verifies that everything filed is true and that the defendant consents to the divorce.
8) Defendant's Waiver of Notice of Intent
This form indicates a waiver of formal notice.
Optional Forms
1) Name Change Form
This form legally allows the spouse to get her maiden name back.
2) Marriage Settlement Agreement
This is the legal document that includes all the terms of your divorce around division of property and child support. Usually this is prepared by an attorney. If you aren't sure whether you need a marital settlement agreement in place, you should learn more about your divorce options.
3) Custody Agreement or Parenting Plan
This is the legal document that includes all the decisions around children's living arrangements and care. Again, this is often prepared by an attorney.
4) Qualified Domestic Relations Order (QDRO)
If you are dividing up retirement accounts, you may need this form to be sifned by the court for your HR administrator at your company.