As someone who has been through two divorces—the second one very much unwanted—I understand all too well the emotional wave brought on by the holiday season. One minute you're up and grateful, the next, you're down, lonely and full of anxiety. Your kid time has been hijacked by your ex, your friends are running off to a great vacation or hunkering down for family time amid fires, movies and popcorn and blankets. You feel like something—someone—is missing. Because well, he or she, is.
Let's face it. Going through a divorce is the pits. Splitting up kids, pets, holidays, expedable income. It all takes its toll and fills you with myriad, hard-to-reconcile emotions. And while there's no 'good time' for divorce, the holidays are the worst

. I signed my divorce papers a year ago today, just before a holiday party. I showed up and burst into tears. Luckily, it was a 'girls only' gathering, and the support was all mine for the taking. I wisely, and precautiously, planned for friends to come over tonight, too, just in case I got into a funk. More on that year behind look in my next post...
This post, I wrote because I wanted to help others get through the next month. I hope it does. And if I didn't say it clearly enough below, don't be ashamed to feel whatever you're feeling or to ask your friends for a hug. It's the one thing they can do for you that they know helps. Oh and by the way, screaming super loud also works wonders :)
—Dawn Elyse Warden, mom of 5, still a believer in love & marriage
One of the hardest emotions to conjure up when riding the rolling waves of an unwanted divorce is joy. Which as you well know, is the holiday season's 'it' buzzword.
Faking it till you make it sounds great in theory, but holiday season or not, the mere thought of feeling joyful, ever, when you're reeling from myriad emotions and strained finances due to legal fees, seems implausible. As does putting on a Hanukah or Christmas celebration—and a happy face.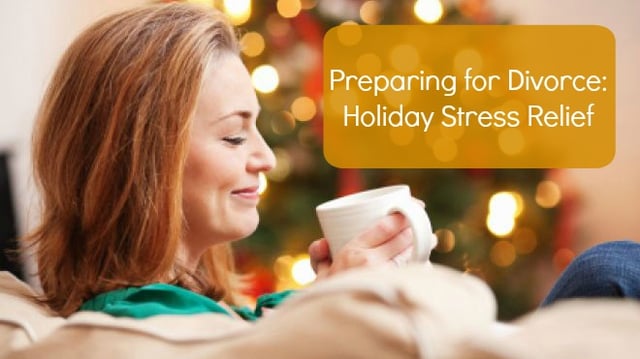 There are few experiences that challenge your mental stability more than your first divorced holiday season; don't beat yourself up for wishing it all away. If your feelings of despair and loneliness seem to be lit up like the splashiest Christmas display, politely decline any invitation that feels potentially challenging and seek out activities that are less likely to stir things up in your head and in your heart. What you (and your kids, if applicable) need most, right now, is to feel safe and comforted. Give yourself a pat on the back for making it through Thanksgiving and take the next five weeks leading up to New Year's Day at your own pace.
---
There are few experiences that challenge your mental stability more than your first divorced holiday season; don't beat yourself up for wishing it all away.
---
Ignore the fact that decorations and lights are appearing everywhere; you can get your home decked out in spurts and when the mood strikes. If Christmas music isn't your thing, then play what you want and lighten up on the love/heartbreak songs or anything that reminds you of your ex. When the holiday cards start rolling in, don't let the 'perfect family' poses get to you. Use them as a reminder of how many people love and care about your family and are thinking of you. And of course, it's good inspiration for creating your own family holiday card. If licking stamps and addressing envelopes sounds taxing, try an e-card. Even if you're not feeling it, life does go on and your kids as well as friends and family will probably appreciate the gesture.
Everything else—shopping for gifts, working out the schedule with your ex, planning activities to help the kids feel normal—can also be taken in chunks. A modified Hanukah or Christmas with less stress, less busyness and less focus on 'things' is exactly what you and your kids need. Running yourself ragged at the risk of losing your temper isn't good for anyone. You may not have been able to control the divorce, but you can absolutely control what your holiday looks and feels like.
Though your friends and family want you to take in at least some of the season's spirit, they know that you're in pain and expect you to be slightly withdrawn and hyper-focused on your kids. Forgive their cheerleading and allow them to shower you with positive energy; it's their job to offer encouragement and tough love. Be honest with them about what you can handle and what you can't, and when they offer help, accept it. They're not expecting you to feign what you're feeling, but they do want to see you smile just a little and to soak in the love and affection of people who are still in your life. You don't have to be peppy, but you do have to try and be present.
Be honest with your kids as well. Let them know that what has occurred is sad for everyone and make them a priority by being with them and not running yourself ragged trying to put on the same caliber celebration you and your spouse did when together. Start your own traditions, including sleeping in, taking naps and cuddling—things kids (including big ones) want and need from their parents regardless of the marital state.
The holidays aren't easy for many people, not just those experiencing a divorce. And, even though it will never feel as raw as it does this first time, it's pretty likely that your divorce will also impact future holidays. Understanding this, and accepting your emotions as they come, is the best gift you can give yourself. And when all else fails, crawl under a blanket on your favorite napping spot and take time to rest, reflect and rejuvenate. Scoff at it all you want, but time really does heal all wounds.
Try these tips too:
Exercise: Work out your stress, anxiety, sleeplessness, anger, frustration by taking walks, jumping on your bike, smacking a tennis ball, running till your legs feel like they're going to fall off. Encourage your kids to do the same if they're showing any signs of agitation.
Get Away: Sometimes the pain is just too much to bear. Instead of sticking around and 'sucking it up,' hop in the car, on a train or a plane and escape reality for a few days.
Ask for Help: This goes as much for mental support as pulling off holiday to-dos. Feeling isolated, lonely or depressed is common; let those closest to you know that you're hurting and accept their hugs and loving words.
Create New Traditions: Change can be fun! Talk with your kids about what might be fun for them to try that's new. Include other families (not just immediate) in your activities. Try celebrating on a different day or somewhere new, or add in something you grew up with that your kids never knew about. Buy gifts for a needy family. Make this YOUR holiday.
Be Realistic: Things are going to feel off this year. That's OK. January 2 will be here fast enough. Be open to a fresh start and a more fulfilling year ahead. It really can happen!
---
Want instant relief from the holiday stress?
Listen to our podcast, Holiday Stress Relief.
---