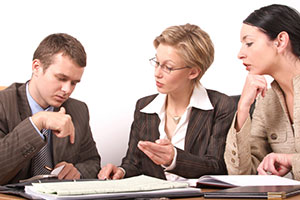 Now that you and your spouse have requested a consultation with Main Line Family Law Center, you may be feeling a bit unsure about what to expect.
Maybe you've already decided to move forward and just need to know how to get started. Or, you're still not sure and need further education on all your rights and options before taking that next crucial step. You may not be on the same page about the future of your marriage and each want different things. We adapt our approach to all these different situations.
To put you both at ease, we pulled together some of the most frequently asked questions about the consultation.

How should I approach the consultation?
Think of the consultation as an open, yet confidential conversation and information-gathering session to discuss your plans for separation or divorce - a forum to finally get all your questions answered. That's all. No decisions need to be made about anything right then and there in the room. These are difficult issues that are tough to face and often need time to process. You'll be encouraged to share anything relevant you are comfortable telling us. Also, while not all cases will require mediation, your mediator will make that recommendation in the consultation.
Think of the consultation as an open, yet confidential conversation and information-gathering session to discuss your plans for separation or divorce - a forum to finally get all your questions answered.
Do we need to have anything worked out ahead of time?
Not at all. In fact, you don't need to have anything worked out before the consultation, and even before you begin any mediation program with us. Although you should at least have some idea of where each of you stand on whether you wish to separate or divorce. If you've worked out any informal terms, we'll ask you to share that information. Also, may we suggest that, if the topic is particularly fragile, that you leave it for the consultation, so a trained mediator is there with the two of you. Just go in with an open mind, a willingness to learn and ask questions, and you will both leave with the clarity needed to make an informed decision together on how to proceed.
How long is the consultation?
The consultation is about 60-90 minutes in length. It's very thorough, and can run over, so be sure to plan well when it comes to child care arrangements. Also make sure you have enough mental and emotional energy to absorb all the information you will receive.
With whom are we meeting?
You will be meeting with an attorney-mediator, who would also be your mediator for your case. This person is a highly-qualified professional who provides legal and financial guidance. (S)he also acts as a neutral third-party partner who facilitates productive conversation and resolution between the two of you. Think of your mediator as a consultant who educates, informs and guides you rather than a traditional lawyer who represents and speaks on your behalf. Depending on your needs, the attorney-mediator can perform the duties of both mediator or attorney. Either way, expect to be in a peaceful, non-adversarial environment with a compassionate expert.
Expect to be in a peaceful, non-adversarial environment with a compassionate expert.
Why do we need to submit the marital property survey ahead of time?
The marital property survey is a critical first step in a separation or divorce process for two reasons:
First, an inventory of your marital estate allows to you begin seeing what you actually have to divide. This process of voluntary financial disclosure also builds a foundation of trust, which is essential for a successful mediation and fair settlement outcome.




Second, it allows your attorney-mediator to get a clear picture of the complexity of your case, ensuring that you leave your consultation with a defined course of action.
What should we bring with us?
You are not required to bring anything with you. If you have either any formal or preliminary written terms, you may bring those with you for the mediator's information and review. Water, notepads, and pens to take notes will be on hand. Your mediator will also have a copy of your completed marital property survey.
What if we need to reschedule the consult?
There is no fee to reschedule the consult. However, depending on the circumstances, you may be assessed a $50 rescheduling fee should you need to reschedule more than once.
My spouse already spoke to someone on the phone and did a lot of research, but I didn't. Will I be at a disadvantage in the consult?
More than likely, only one of you has had contact with an intake specialist so far, and has shared some important background about your situation, either by phone or online. Your mediator is well aware that sometimes one spouse may come to a consultation with more knowledge (and usually more readiness) than the other because they have done more initial research.
To be fair, you will both need to have the same information to make informed decisions in your settlement. The attorney-mediator will provide each of you with such information so you can begin on a level playing field. However, if you would like to do your own research prior to the consultation so you feel more prepared, here are some options:
For a quick study, visit this page to learn more about our

divorce mediation program

.

You are also more than welcome to call our office to speak with an intake specialist and ask anything you like prior to the consult.
Lastly, we encourage you to watch this short video about Main Line Family Law Center.
Watch this video to learn about our approach to mediation.
How the Meeting Will Unfold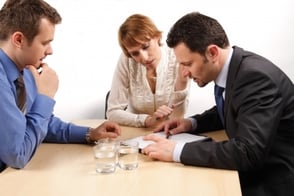 Now let's walk you through the consultation in more detail. You'll be meeting with an experienced attorney-mediator who can address your initial questions about your legal rights and responsibilities.
Here's what will happen during our meeting:
1. Listen to Each of Your Priorities and Concerns Equally
We'll begin by simply asking some open-ended questions designed to promote open and honest dialogue so that we can uncover all the key concerns at the outset. Here, you will have the opportunity to speak about those issues you deem most important to each of you. This is your first chance to each be heard, to begin building mutual trust and a level of positive and meaningful dialogue with one another which you will carry into the mediation sessions.
2. An Overview of PA Divorce Law and Your Basic Rights and Entitlements
We'll go over your Marital Property Survey and discuss any legal issues to think about - equitable property division, child support, custody, and alimony/spousal support in PA, as well as those recommended documents and items needed for mediation, such as real estate, business and retirement appraisals, family budgets, etc… as it relates to your case.
3. Learn How Our Divorce Mediation Process Works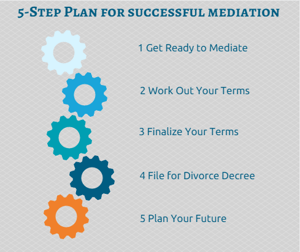 Next, you'll learn how our mediation works and our 5-step plan, as well as the mediator's role in the process as neutral third party partners. Many clients have already done some initial research about mediation prior to their consultation. If this is the case, then your mediator's job will be to clarify your understanding and to make sure you are both on equal footing from the beginning.
Your mediator will also explain their role as a neutral, third-party partner in the process. This includes how (s)he will help you set ground rules, educate you on the law, lay out settlement options to choose, model negotiation techniques, as well as be a referral source and liaison for additional supports you may need. You will also learn about the tools we use for collaboration, and how you will both retain control of all the decisions of your settlement.
4. What's Expected of You for a Successful Mediation
During your consultation, you'll learn about what it takes to be successful in mediation, and the mindset for mediation that will be necessary. You will need to be in mediation for the right reasons and motivations and be ready to discuss what is best for the family as a whole to successfully navigate this difficult life transition into the future. You will learn why strong emotions such as anger, resent, fault or blame will not have any place in a successful mediation.
5. Review Your 5-Step Plan for Resolution
Should you require mediation, we'll explain our entire mediation process, walk you through each step and identify a potential timeline for completion - often in the range of three to seven months. Depending on your circumstances, we'll discuss and recommend whether certain members of our divorce professional network might be of assistance in supporting you through the divorce.
6. Your Custom Flat-Fee Quote
After thoroughly reviewing your needs and which service(s) would best address them, you'll receive a custom flat-fee quote. You'll then learn about all of our available payment plan options to help make the program most affordable to you. Your custom quote is based on the level of complexity of your case, relating to the total amount of time and services, the number of terms and provisions needed to address in order to fairly divide your marital property, specific financial and tax implications, as well as adequately addressing all children's needs. Learn more about pricing FAQs.
Finally, let me assure you that you will always receive competent and compassionate advice and guidance tailored to your specific needs and circumstances. When you leave, you'll both be empowered with the knowledge you'll need in order to take the most positive course of action for your family's future.
When you leave, you'll both be empowered with the knowledge you'll need in order to take the most positive course of action for your family's future.
What Happens After the Consultation
With a plan for resolution, you'll each emerge from your consultation with much hope for a better way as you navigate through one of life's most difficult transitions. That said, we understand that there's a lot to process. We encourage you to take your time and contact us to clarify anything that arises after the meeting and ultimately letting us know how you both wish to proceed.
About the Author
Sharon Pastore, Main Line Family Law Center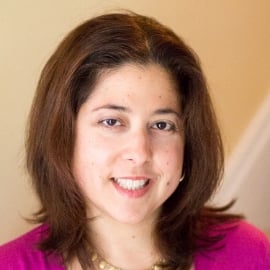 Sharon Pastore is Co-Founder of Main Line Family Law Center, which was established in 2012. She is on a mission to generate awareness, understanding and trust around mediation as a healthier option for separation and divorce well before a client's first consultation. She draws upon over 17 years in nonprofit, education and marketing to enable more spouses to "get to the table" and mediate successfully.
Topics: Healthy Legal Options